I'm a PhD student/scientific assistant at the Chair for Dynamics, Control and Numerics at FAU Erlangen- Nürnberg.
My main research interests lie in the analysis and control of partial differential equations. More specifically, I've been working on the following topics: conservation laws; transport with rough velocity fields; flows on networks; local and nonlocal (degenerate higher-order) parabolic PDEs; free boundary problems; variational and topological methods for the study of nonlinear problems.

Projects
• TRR154

My posters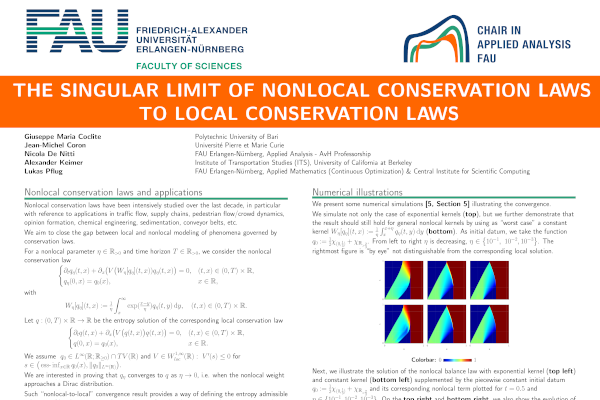 The Singular limit of Nonlocal conservation Laws to Local Conservation Laws

Teaching
• WS 22/23: Transport Phenomena
• WS 22/23: Mathematical Modeling in the Life Sciences
• WS 21/22: Modeling and Analysis in Continuum Mechanics 1
• WS 21/22: Transport Phenomena

My posts on Math & Research
You might like!